سيارة مرسيدس C450 AMG موديل 2016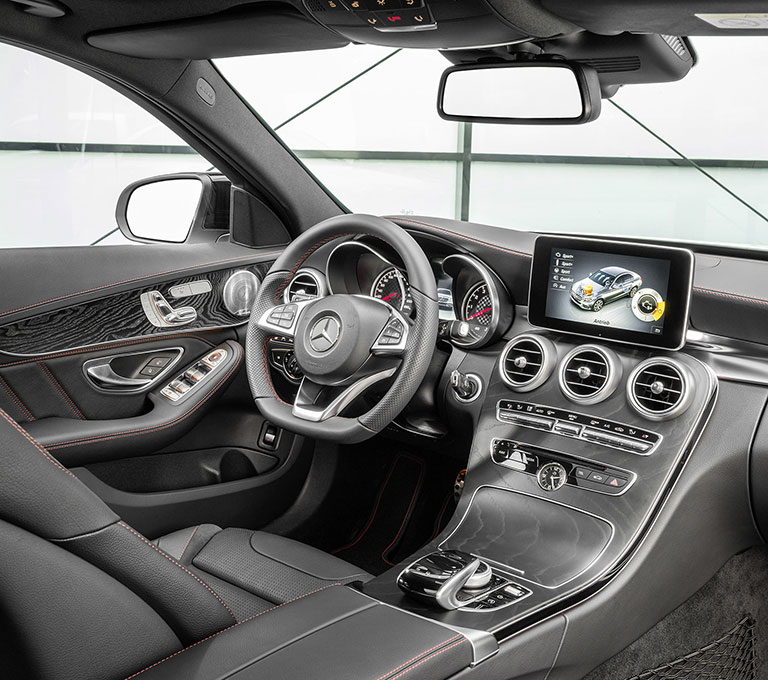 The masterful performance engineering of Mercedes-AMG is now at your fingertips in an all-new form.
One glance at the all-new 2016 C450 AMG 4MATIC tells you that it is true AMG, with its characteristic body styling and AMG-exclusive wheels. But the proof is in not just what you see, but also in what you feel: a performance-tuned 3.0-liter biturbo V-6 that delivers 362 horsepower and 384 lb-ft of torque to propel you to 60mph in only 4.9 sec. A suspension adopted from the top-of-the-line Mercedes-AMG C63. And the rear-biased AMG Performance 4MATIC all-wheel-drive system found in a number of AMG models.
Inside, the C450 AMG features the latest refined C-Class craftsmanship and elegance, enhanced with AMG sport seats and exclusive styling and trim.
The innovative and sophisticated safety systems of Mercedes-Benz Intelligent Drive make driving the C450 AMG even more enjoyable, thanks to the confidence that comes from standard features such as COLLISION PREVENTION ASSIST PLUS and ATTENTION ASSIST.
The all-new 2016 C450 AMG 4MATIC arrives in the U.S. in the fall of 2015.
Key Highlights
AMG tuned 3.0-liter V-6 biturbo engine
362 horsepower, 384 lb-ft of torque
0-60 mph time of 4.9 seconds
AMG DYNAMIC SELECT variable suspension, powertrain and steering modes
7G-TRONIC PLUS automatic transmission with variable modes
AMG Adaptive sport suspension
AMG Performance 4MATIC all-wheel-drive with rear-biased torque split
AMG engineered exhaust system
Exclusive AMG exterior and interior styling
Additional AMG-exclusive options
Advanced safety technologies, including COLLISION PREVENTION ASSIST PLUS, ATTENTION ASSIST, ADAPTIVE BRAKE